Ninchanese wants to change the way we all learn Chinese. Since its inception, its goal has been to offer an enjoyable and effective way to learn Chinese. After more than 3 years of hard work, including a year of private beta and thousands of beta user feedback messages, we're happy to announce today: Ninchanese is now accessible to all in open beta! You can now give the application a try and change the way you learn Chinese! Read on to see what being in open beta changes for you and Ninchanese. 
A big step for Nincha and Lupishu
After being a little over a year in private beta, Ninchanese, the gamified Chinese learning application, is now open to all! Ninchanese's open beta is a huge step for Nincha and Lupishu and great news for Chinese learners around the world.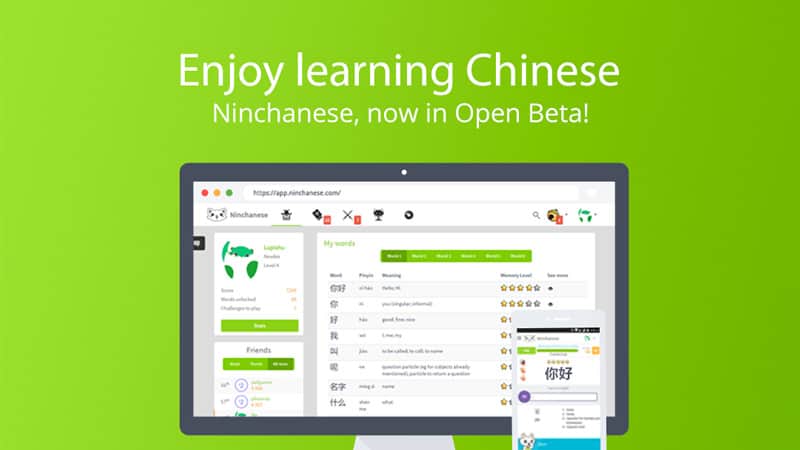 Reflecting back at everything the Nincha Team has accomplished so far with Ninchanese, two things become clear:
We've come a long way from the initial Ninchanese idea and design (which originally, only covered vocabulary)
All this wouldn't have happened without the help of our amazing and incredible beta testers and users. So, thank you all! Without the thousands of feedback messages sent by our beta testers, their encouragements and their showings of love for the Chinese application we were building, the Nincha Team would never be where we are today. They helped us improve the application tremendously, helped us run a successful Kickstarter campaign, and some became our first customers… We're incredibly grateful to all of our closed beta users and for their wonderful support. You'll always hold a special place in our hearts, Nincha learners.
What Ninchanese being in open beta means
Ninchanese in open beta means a few big changes for the application, which we'll cover here.
Ninchanese is now freemium
Now that the app is in open beta, Ninchanese is a freemium web application. This means it's free to use and you can easily upgrade to paid plans to get access to more features and content. For instance, all the vocabulary stages on Ninchanese are completely free, so you can easily learn all the vocabulary you need to strike conversations with Chinese native speakers, read books or take HSK tests, from level 1 to 6. To take your learning further, build sentences, work on your Chinese pronunciation and listening skills, you'll need to subscribe.
This is not the only change the open beta brings. The open beta also means: access to more content!
Access to more great content!
The closed beta was restricted to World 1, which offered beginner (newbie) Chinese learning content. More advanced content was available, but only for those who preordered. Ninchanese going out of closed beta changes that: all four worlds are now accessible. You can therefore now easily jump to content more your level, if 你好 and introducing yourself are things you can now say in your sleep.
What else is new?
Easily accessible to everyone!
From now on, no more invites are required to enter Nincha's fantastic world. Everyone can register on its own. So, new learners, rejoice: you can start learning Chinese on Ninchanese in a just a few clicks. Not sure how to get started? Check out our Get started page!
A new face for Ninchanese
We're so happy to be unveiling Ninchanese's new site!  To celebrate moving Ninchanese to open beta, we've also completely redesigned ninchanese.com. The site's all-new design resembles Ninchanese, the app, a lot more than the previous one! So, dear readers, now that Ninchanese.com has shed its skin, head here to see Ninchanese's true face.
The new Ninchanese.com site also offers plenty of resources on learning Chinese and using Ninchanese. There's a help section, guides on how to get started in Chinese, and a lot more to explore!
More to come
In short here, in Nincha Land, we're very proud of reaching this step and releasing Ninchanese in open beta today.
We have a lot more in store, and plenty of surprises planned, to continue on our mission of bringing Chinese learners everywhere the most adorable and efficient way to learn Chinese. So, you can count on us to continue to innovate and improve Ninchanese and we look forward to reaching lots more steps with you guys!
Have you tried Ninchanese's beta yet? Come on over and give it a try! Show your Chinese learning friends the new website and invite them to join you in the beta!
Sarah and
The Nincha Team
Stay in touch with us on Facebook, Twitter, Instagram, and Pinterest.
Try the best way to learn Chinese today.
Ninchanese is free to use!