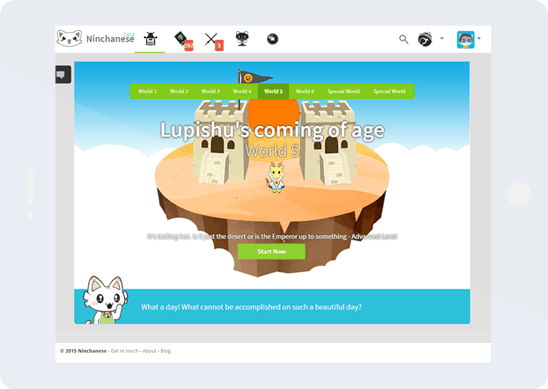 A new world full of advanced Chinese content
Looking for an effective way to reach an advanced level in Chinese, without having to waste your time?  Look no further! Ninchanese's all-new world, made specifically for advanced Chinese learners is what you need. Ninchanese is the only active advanced Chinese learning app available today.
Chock-full of learning material designed specifically to meet your Chinese learning needs, the new advanced level on Ninchanese will help you say goodbye to intermediate Chinese and 你好 to near fluency in Mandarin.
With Ninchanese Advanced Chinese learning app, Mandarin will hold no more secrets for you
With the exciting new advanced Chinese lessons on Ninchanese, you'll learn how to be independent in everyday situations in Chinese by using more complex vocabulary, grammar rules, and dialogues.
You'll acquire the keys to being at ease in real-life communications in a Chinese setting, and as a result, will be ready to master any situation that is thrown your way, whether it's business, cultural, social or love related.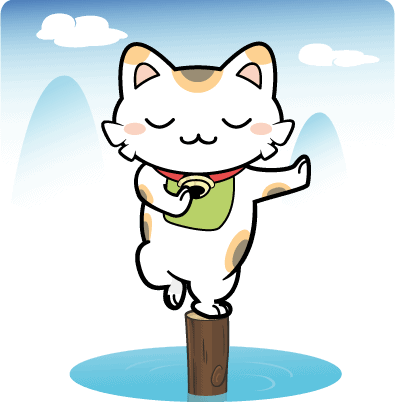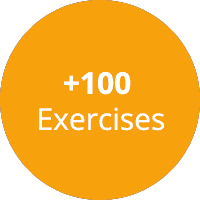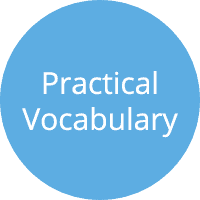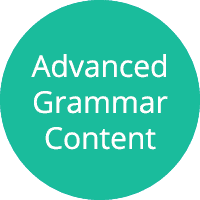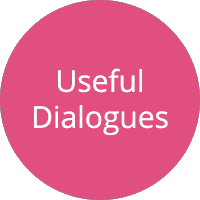 What is this advanced Chinese course?
Ninchanese's comprehensive advanced level offers you hundreds of stages and exercises to efficiently take your Chinese to the next level.
With these advanced Chinese lessons, you'll:
Get access to learning material for advanced learners only
Learn practical and authentic vocabulary you can actively use in real-life communications to say precisely what you want
Grow your speaking and listening skills thanks to 50 dialogues covering useful, real-world, topics for advanced learners
and start sounding native in Chinese.
Master advanced grammar content,
Improve your reading chops,
and many more surprises!
Once you're done with this advanced Chinese course, all that will be left to do is open your mouth and speak the language! Try this advanced Chinese learning app today!
Authentic Chinese material to broaden your knowledge
Sign up to learn Chinese content you'll actively use in real-life communication

Business talks
Learn how to write a resume and apply for a job in Mandarin. Lead negotiations with Chinese people and use both a technical vocabulary and your fluency level to succeed in doing business in China.

Take part in Chinese society
Stop being passive in conversations by only listening, and take part in Chinese discussions! Learn how to talk about the news and gossip. Express your opinion and share your ideas on current topics with native Chinese speakers. Explore the Chinese way of thinking by talking about Chinese medicine and social trends. Learn to use a more accurate vocabulary and dig deeper into each topic.

Satisfy all your needs in Chinese
Learn how to express your needs when heading to the hospital or when you need help. Master the advanced level and you'll be able to manage your bank account and satisfy your most specific needs. Finally, you'll be independent in everyday life in China.
Thanks to the advanced Chinese level you'll be able to:
take your Chinese from an intermediate to an advanced level
feel in control regarding Mandarin
be confident in your language skills
immerse yourself in listening, speaking, reading, and writing Chinese
consolidate and balance your skills
grow your word stock with more technical and accurate vocabulary
build upon the knowledge you've acquired since World 1
learn to use new advanced grammar rules and discourse structures
reach a near-fluent conversational level with more than 50 dialogues
fit in in China
take part in Chinese society
be independent in everyday life
understand face-to-face conversations in Chinese
express your opinion and deepest thoughts
do business with Chinese native speakers
handle arrangements with Chinese administrators
provide for your needs (renting, hospital, bank..)
and more!
Bring your dedication and motivation, we'll provide the rest so you can reach an advanced level in Chinese
Take the HSK 5 test and succeed
All the vocabulary and grammar points you'll see in the advanced Chinese level are what you need to know to pass the HSK 5 test. By mastering more than 1500 words, new advanced grammar lessons, and HSK 5 exam topics, you'll be ready to pass the test and succeed. Use Ninchanese to practice when and how you want it and prepare your advanced exam by learning at your own pace. At Ninchanese, we always do our best to help you reach your fluency goals.
The World 5 is already available
The Advanced World is out. Try the advanced Chinese world on Ninchanese now for free!
Advanced Chinese Learning App – HSK 1 to HSK 5