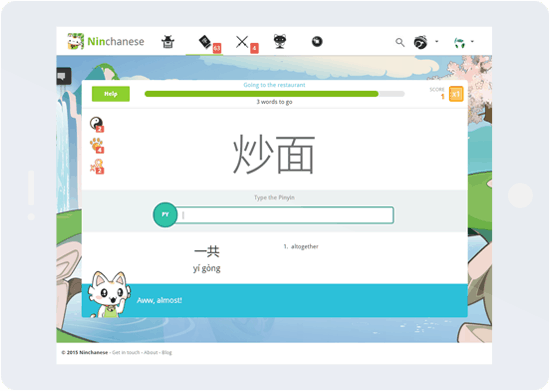 Learn to order in Chinese
Ordering food and being able to read a menu is a must-know skill when going to China. The options to eat out in China are countless: street food, night markets, mom and pop food stalls, high-end Chinese restaurants… It'd be a pity not to sample them all! Learn the delicious Chinese cuisine vocabulary you need to know to order in Chinese. You'll soon be enjoying all the dishes you want when eating out in China.
Start now
Adaptive and efficient learning
Learn to order delicious Chinese dishes in Mandarin Chinese thanks to our powerful spaced repetition algorithm, made especially for Chinese learning. With our efficient learning tool, you'll remember up to 95% of everything you learn on Ninchanese, for good. Then reading the menu and ordering dishes in Chinese will have no secrets for you.
Learn the names of wonderful Chinese dishes to try
and more key Chinese words completely free
Sign up now
Learn how to order in a restaurant in Chinese