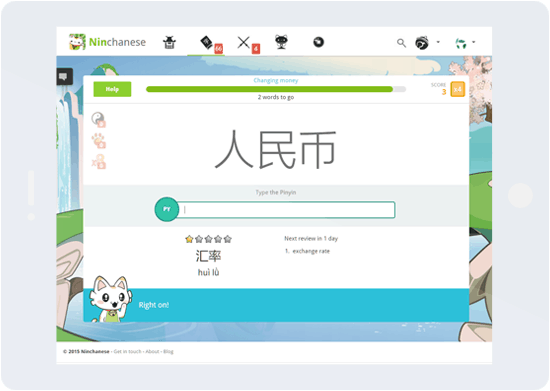 Exchange money in Chinese
Money can't buy happiness but it sure is useful when you're traveling. Exchange your foreign currency into Renminbi, China's currency also called RMB, to be able to buy everything you desire in China: jade, fried noodles, bubble teas, dvds…. Learn the survival vocabulary in Chinese you need so you can go to a bank and exchange your money into RMBs.
Start now
Adaptive and efficient learning
Learn how to exchange money in Mandarin Chinese thanks to our powerful spaced repetition algorithm, made especially for Chinese learning. With our efficient learning tool, you'll remember more than 93% of everything you learn on Ninchanese, for good. Perfect for when you travel to a Chinese-speaking country.
Learn the vocabulary you need to change money and
many other useful words in Chinese, completely free
Sign up now
Learn how to exchange money in China