Using Ninchanese
Get to know the basics, and a few helpful tips along the way!
Don't hesitate to contact us if you don't find the answer to your question.
Creating a new Nincha Deck
A Nincha Deck is a personalized list of Chinese words you can create to learn. It's a simple and quick process to create a new deck.
A Nincha Deck can be composed of any Chinese words you want. It must be composed of at least 5 words to work. Up to 30 words can be added per deck.
Nincha Decks are a premium-only feature. Upgrade to a Premium plan to be able to create your own learning decks.
How do I create a Nincha Deck?
Here's how to create a Nincha Deck.
Go to the Nincha Decks page. You can also access "My decks" from the right side menu, by clicking on your profile picture.
Click on the button "Create a new deck"
Enter a name for your deck and a description 
Click on the Add Words button to start adding words to your deck
Search for a word you want in the dictionary, and click "Add to deck"
Repeat step 5 for all the words you want to add.
When you're done, hit the button "close".
Press the "play" button to start learning your deck.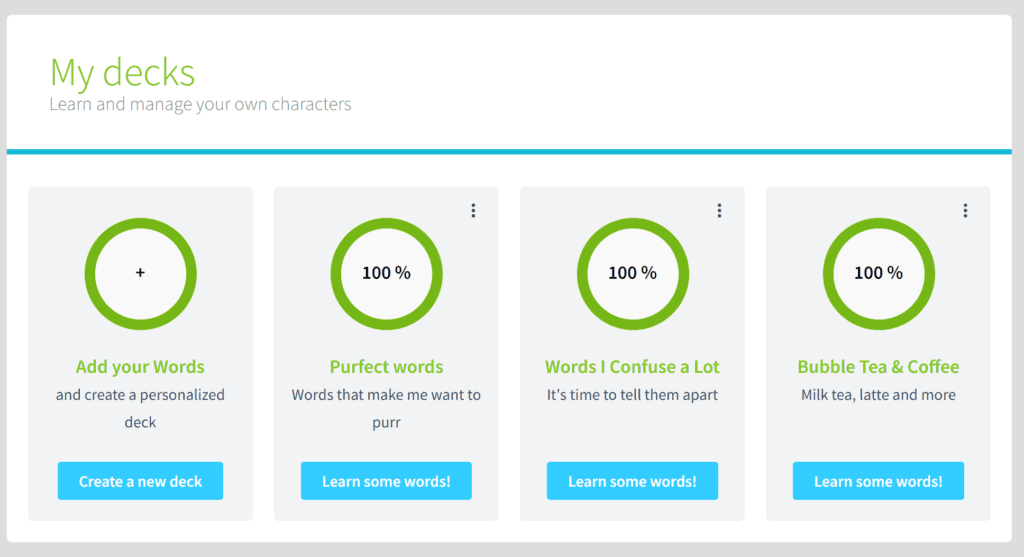 That's it! You're now all set to start learning your own words on Ninchanese!
Learning new words in a Nincha Deck
Once your deck is built, you'll learn words the same way you do in a vocabulary stage on Ninchanese.
You'll learn words in both pinyin and English.
You'll gradually unlock the words, as the learning system senses you are ready to move on to a new word.
Words you learn in a deck will be placed in your review queue, using the same repetition system you find elsewhere in Ninchanese.  In other words, these will also appear in your reviews.
You can also choose to review only the words in one deck, by hitting "play" in that deck.
FAQ
I just created a deck and added words to it. Why are there no new words to learn in it?
If it says there are no words to learn, that's because these are words you have already learned in Ninchanese.
It might also say you have a certain number of reviews to do. That's for the same reason. These are words you've already learned, and just need to review.
How do I edit the title of a deck?
Easy!
1. Open a deck.
2. Click the little three-dot menu and select "edit title and description"
3. Enter your changes and press "edit the deck" to save them.
Can I delete a word from a deck?
Yes. All you need to do is open the deck, and hit "remove" next to a word in the deck. You won't be learning this word anymore in the deck.
Can I delete a deck?
Yes to that too. If you decide you don't want a deck anymore, just click on "delete the deck" and hit "okay" to confirm. A deleted deck cannot be retrieved, so make sure you really do want to delete it before you do!
I'd like to add a new meaning to a word in one of my decks. How can I do so?
Let us know and we'll be happy to do that for you! Just write to us to tell us which word. You can either use the feedback button directly in the app or write to us at hello@ninchanese.com.
Creating a Nincha Deck of Chinese Words