Using Ninchanese
Get to know the basics and a few helpful tips along the way!
Don't hesitate to contact us if you don't find the answer to your question.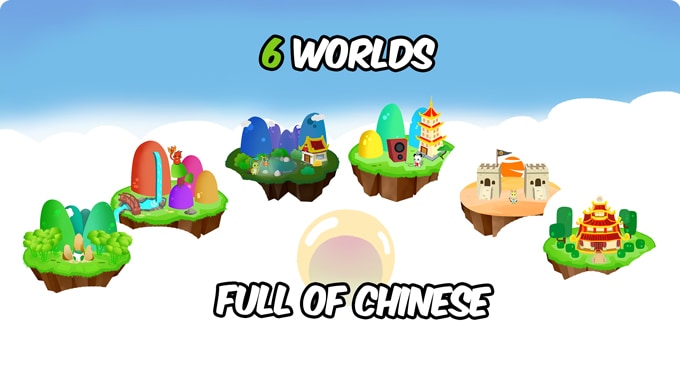 What can I learn on Ninchanese?
You have six worlds to learn on Ninchanese that will take you from a beginner level in Chinese to an advanced conversationally fluent learner.
Learn Chinese through Ninchanese's six worlds, divided into six Chinese learning levels. Here is a quick summary but you can read our complete curriculum here.
The perfect place to start if you are entirely new to the Chinese language. You'll learn the basics and the key building blocks you need to build a strong foundation in Chinese. There are 30+ stages to unlock, plenty of words and sentences to learn. In addition, you'll learn notions such as the Chinese word order, how to ask questions, how to say no, and useful phrases to ask for directions, to order food, and more.
Want to skip ahead to a higher level? Click here to learn how and read below a description of each world's content and skills.
In World 2, you'll build on World 1 and continue to learn the Chinese language's basic sentence patterns, characters, and grammar. There are 30+ stages to play with hundreds of words and new sentences to learn. In sum, you'll learn the basics of talking to people and be able to read simple texts.
In World 3, you'll have access to 50 new stages to take you from an elementary to an upper-elementary and intermediate level in Chinese. You'll learn over 300 new words with Nincha. In addition, 400 new sentences and close to 20 new grammar lessons, so you'll be able to use more complex sentence constructions and a richer, more varied language.
You'll learn to use more key sentence structures in spoken and written Chinese. Once you've finished world 3, you'll know how to use structures such the particle ., the change of state 了, 才 and 就, the pattern "是…的" and more.
World 3 continues from World 2, so you'll also be learning new material and expanding on the content you've previously learned. This will allow you to talk about a wider variety of topics such as negotiating, shopping, banking, and a lot more.
World 4 has 100 stages to play, new words to learn in Chinese, sentences to learn to use words in context, new grammar patterns to learn to use. You'll have seen and practiced using the most common Chinese syntax patterns. You'll be able to read a modern Chinese text, a short novel, or watch a Chinese or Taiwanese drama and understand most of it.
World 4's stages focus on learning useful and practical vocabulary to live, travel and work in China. 
From:
The grammar structures and patterns you'll be learning

To the vocabulary, you'll be acquiring

To the themes the speaking stages cover,
World 4 will give you the skills you need to really foray into the Chinese-speaking world.
Ninchanese's comprehensive, advanced level offers you tons of new stages and exercises to efficiently take your Chinese to the next level.
With these advanced Chinese lessons, you'll be able to:
Learn practical and authentic vocabulary

 to say precisely what you want,

Train your verbal skills with dialogues about 

useful real-world topics tailored for advanced learners,

Start 

sounding native

 in Chinese and 

fine-tune

 

your ears

,

Master 

advanced grammar content

,

Improve your 

reading skills

,

And access many more surprises!
World 6: Chinese Proficiency Level – HSK 6
We are not different from the HSK 5 level, and we continue the same way. You'll go through the societal problems and deep Chinese culture. And learn your way to fluency with the modern and actual subject and explore Chinese idioms meaning.
You now have access to the complete Chinese learning application available to help you reach your fluency goals in Mandarin!
Ninchanese course content