It's pretty easy to get from one place to the next in any country, but in China transportation is a convenience of everyday life. Take a ride with me to know all about them.
There are many types of convenient modes of transport in the urban areas of China. These include Bicycles, Taxies, Metros, and Public buses. From the cheapest to the most expensive, all within your budget and what's convenient for you. 
Before 1948, China's transportation system wasn't as exceedingly profound as it is now. However, because of the booming economy and other factors, China has revolutionized transportation. Let's talk about all the different forms of transportation.
Bus: convenient, cheap and eco-friendly transportation.
In the large cities, there are many buses, and the system works exceedingly well.  Even if you don't speak a word of Chinese, you can manage to take the bus, but please make sure to take a map with you! Don't be afraid to verify a destination with a Chinese traveler, it helps to be sure where to go. 
What's interesting with the bus? It's cheap! Local buses only cost around 1-3 RMB (1-3 远); you could say it's very 太便宜 (tai4 pian2 yi).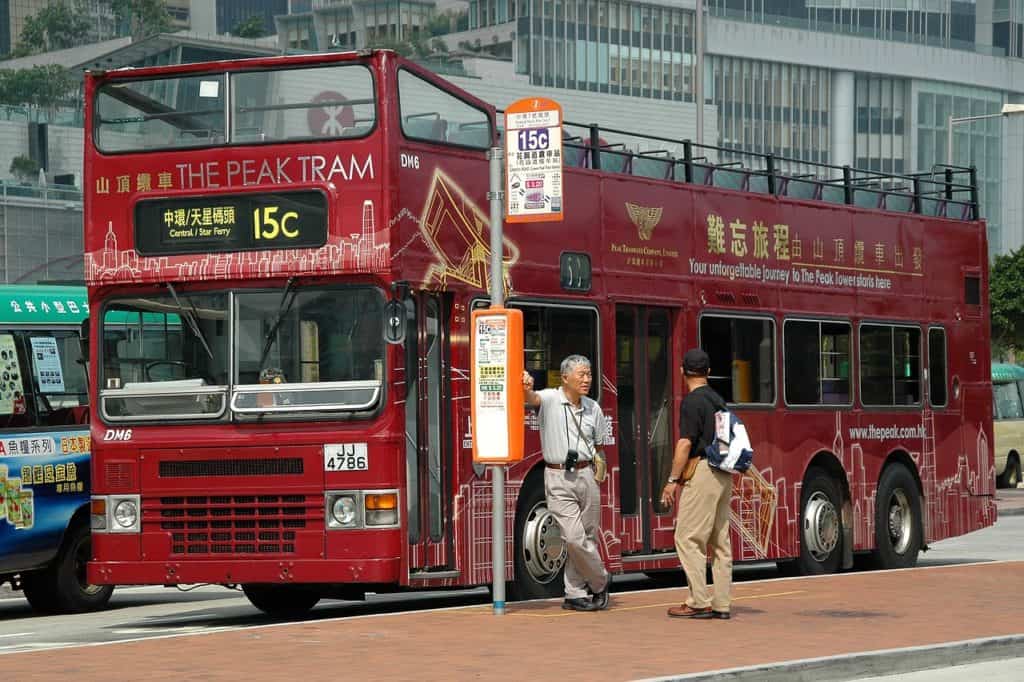 Electric buses and Trolleybus systems
The Chinese government has made a collective effort to promote electric vehicles. There are approximately 400,000 electric buses in operation, 99% of them are in China!
There are a few tips on taking this mode of transport I should mention.
Work hours. Buses run from 6 a.m to 11 p.m. However, some may run even earlier.

Rush Hour. From 7 a.m to 9 a.m; 5 p.m. to 7 p.m.
You should also be aware that most of everything at the bus station and on buses, is usually written in Chinese. That may have changed recently, so don't quote me on that. However, I know that in the cities that see a lot of foreign workers: Beijing, Shanghai, and Hong Kong, they usually have a translation. 
The bus stops at all stops, except when nobody is waiting. That being said, please make sure to warn the driver of the desired stop. 
See some useful Chinese sentences to take the bus in China.
怎么去汽车总站?
Zěnme qù qìchē zǒngzhàn?
How do I get to the bus station?
去北京的票多少钱?
Qù Běi jīng de piào duō shǎo qián?
How much is a ticket to Beijing?
地址在哪里?
Dìzhǐ zài nǎlǐ?
What is the address?
到了。
Dàole.
I've reached my destination.
Please pay attention to your belongings, although pickpocketing is slowly decreasing, there is nothing wrong with being aware of your surroundings. 
Metro: Fast and easy to use transportation
Ahhh, at last, the Metro. Perhaps my most favorite type of transportation! This mode of transit is ideal for big cities. In larger cities like Shanghai or Beijing, metro systems are in operation and very well done. They are clean, secure and easy to use. In some other big cities in China, it may still be under construction, or even in the planning stage. It certainly is unchallenged in its ability to transport large amounts of people, at quite a high rotation too! As for the cost, it's around 2-12 RMB, not so bad, right?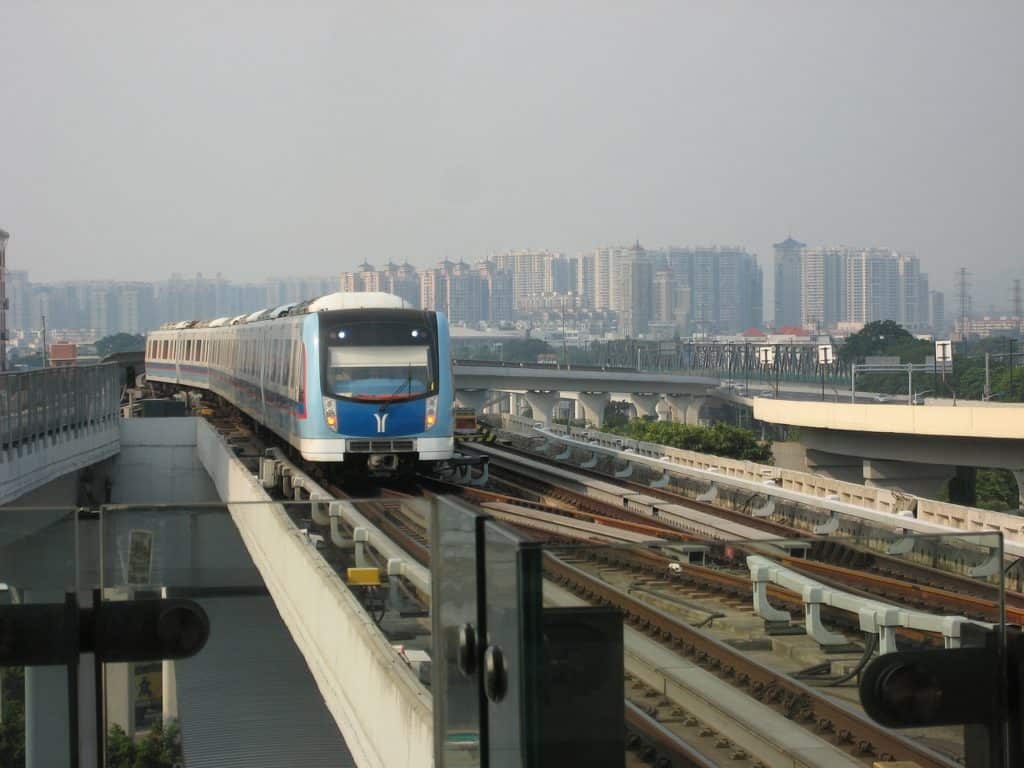 Fun Fact! The Shanghai Metro, opening in 1995, is actually the longest metro system in the world! 
Always good to know the metro in Chinese:
地铁站。
Dìtiě zhàn.
Subway station.
" I actually graduated from the University of Edinburgh with a MA in Chinese.
I've used Ninchanese daily, and it has helped me a lot!  "
 – Connor, Ninchanese User
Try Ninchanese, an award-winning method to learn Chinese today:
Bicycles: the favorite transportation of Chinese
This mode of transport is favored by the Chinese, at least in the small and average cities. Bicycle paths follow main avenues, and in most cities and places of interest, bicycle renting is offered at stores or at the hotel. 
Usually, it's necessary to leave one's passport or a photocopy or even a pledge with the dealers. Make sure that you both agree on the price and the duration of the rent, once again, haggling comes in nicely here.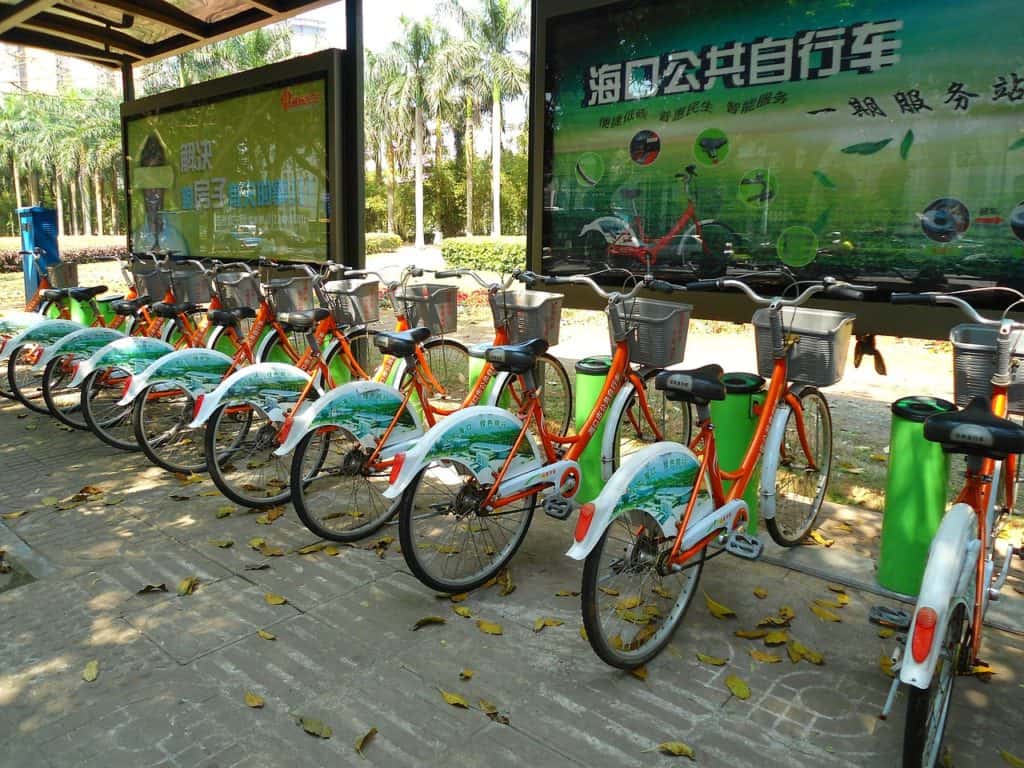 In recent years, the government provides bicycle services in many cities to encourage low-carbon traveling. You can find these services at specific places on the streets, making it extremely convenient for people to receive one. However, please make sure your cell phone has the function of Alipay or Wechat Payment. This makes it a lot more comfortable to rent a public bicycle without applying for a permanent card for renting.
Some Chinese sentences for renting a bike:
我要租一辆自行车。
Wǒ yào yī liàng zìxíngchē.
I want to rent a bike.
我要租一辆汽车。
Wǒ yào zū yī liàng qìchē.
I want to rent a car.
我要租一辆摩托车。
Wǒ yào yī liàng mótuō chē.
I want to rent a motorcycle.
我可以买保险吗?
Wǒ kěyǐ mǎi bǎoxiǎn ma?
Can I get insurance?
Taxi: the most convenient transportation in China
Another cheap option of transport, the taxi, proves to be convenient. In the big cities, taxis do have a meter and are everywhere! However, in towns, ask your hotel for the current price of a ride. Sometimes, they will see you're a tourist and negotiate a price with you. Generally, it's better to use the meter.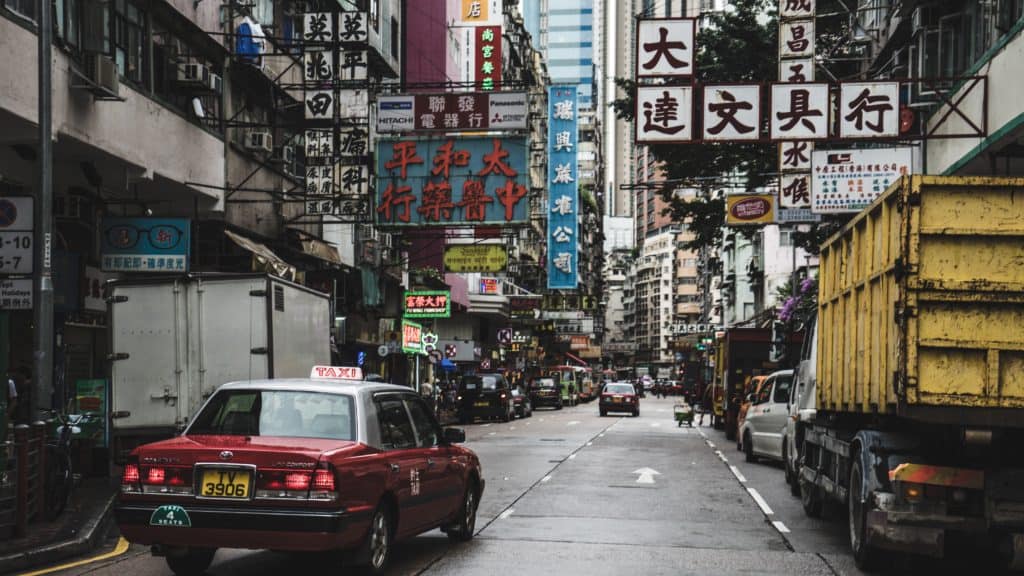 What's fun is, if you're going to go on a long trip by taxi, you'll likely get to negotiate an all-inclusive price; this would be a great way to practice your haggling skills! But be careful, Chinese are really good with negotiation, take your time and be sure to agree on a price.
Speaking of price, in general, taxis cost 7-13 RMB. A 15-minute taxi ride in Beijing costs only 16 RMB. Ten years ago, you'll have to wave a taxi. You can also do that, but during rush hour, every Chinese use an app called 嘀嘀打车 (di2 di2 da3 che1), an app dedicated to getting you a ride (it's the Chinese version of Uber or Lyft)! So you won't find any taxi! But do as Romans do, use 滴滴打车. There is an English version, so there is no need to be intimidated.
Taxis are everywhere at any time, just be sure to hail them over, to call their phone or use the app. Please be aware that the drivers in China speak only Chinese, few speak English. It is necessary to have the destination address written in Chinese characters if you're not sure how to say it in Chinese. Also! If you're lost, then it's a really good idea to call your hotel, or even call your Chinese friend, to make sure the driver knows where to go. 
Some drivers may be a bit crazy in regards to your driving standard, so that being said, please don't be surprised. 
Learn these Chinese sentences to take the taxi:
请您开到X。
Qǐng nín kāidào X.
Take me to X, please.
请打表。
Qǐng dǎbiǎo.
Please use the meter machine.
Conclusion
In conclusion, there are multiple ways to get around China, and many are just at a tap of your fingers. My last piece of advice for you travelers is: Don't forget to have fun! I know that it can be intimidating, especially when you're in a country that doesn't speak your language. Just relax and enjoy your stay in a world that is much different from yours. See you in China!
If you go to China, the Chinese phrasebook will be handy, download the app from the Playstore.
Wanna relive the Silk Road? Then make sure to look out for my next article on some outstanding train travel lines! See you. 
您好我叫欧阳梵,十分高兴见到您!我是德裔美国人,现在在美国上学。我期待在Ninchanese宇宙和您相遇!
Hello, my name is 欧阳梵. I am really happy to see you here! I am a German-American student living here in the U.S. I hope to see you around in the Ninchanese universe!