China is full of wonders and surprises. It's also full of copies and imitations. Here is our top of the Best Chinese copies.  Which sometimes are also really surprising. What are some of the most astonishing imitations one can find in China? Architectural knock-offs! These architectural imitations can range from buildings (the Eiffel Tower, for instance) to the entire village and look more or less authentic. Let me take you on a tour of the Best Chinese copies of architectural so you can see for yourself!
The best Chinese copies: One Chinese City, Nine European Towns
To get an idea of how the Chinese see and imitate Western architecture, your first stop has to be Shanghai. In 2001, the city launched an ambitious "One City, Nine Towns" plan to develop its suburbs. And then somewhere, somehow, someone decided that each of these towns should be fashioned in a European style.
There's therefore: Swedish Town (罗店, Luodian New Town)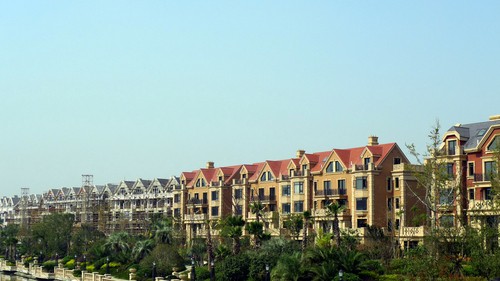 Does this look Swedish to you? Source: TripleFiveChina
Holland Town (高桥, Gaoqiao New Town)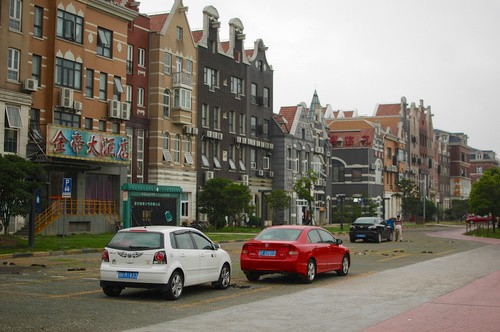 There's even a windmill in Holland Town! Photo: Triple Five China
Thames Town (泰晤士小鎮, tài wù shì xiǎo zhèn)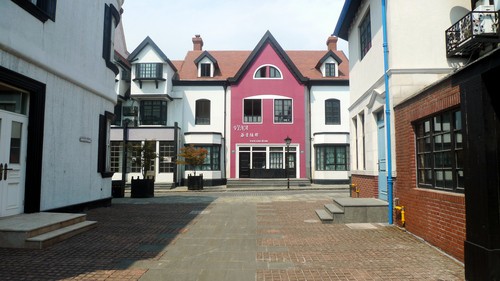 Cobbled streets, cottage-like housing… no doubt, this is meant to look British. Photo credit: Tripe Five China 
Italian Town (浦江, Pujiang New Town)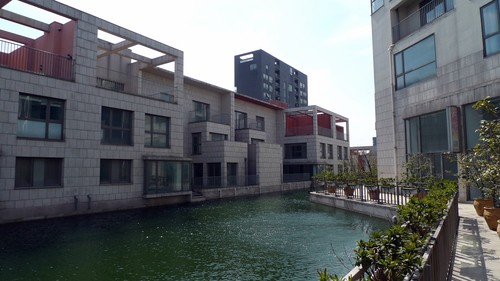 An Italian town is all about angles and concrete… Photo: Triple Five China
About Best Chinese copies, there's also Fengcheng New Town, which is supposed to resemble a Spanish city, Anting, which imitates Weimar's architecture (Germany), Zhujiajiao New Town which mixes European style with the original ancient water town; and then a slew of towns mixing various, non-descript, European styles (Fengjing, Zhoupu and Baozhen). Admittedly, most, if not all, of these new cities are urban failures. They've become ghost towns instead of bustling new cities that help relieve population pressure on Shanghai's city center. But they do make for a picturesque, albeit surreal, excursion.
Paris, Chateaux and Pyramids, oh my!
After this introduction to China's copycat movement, it's time to move on to grander, more bizarre scenes. Because the Best Chinese copies could not exist without a copy of? A little bit of Paris Hangzhou, being only a few hours from Shanghai, can be your next stop. There you'll discover Tianducheng, which aspires to be, in short, Paris.
Tianducheng is a very popular destination for wedding photo ops! Source (and more pictures of Tianducheng): mdnphoto.com
Live like a King
An Eiffel tower, not your thing? Fret not. You can get your French on at Beijing's full-size Chateau Zhang Lafitte, styled after the original French Chateau Lafitte.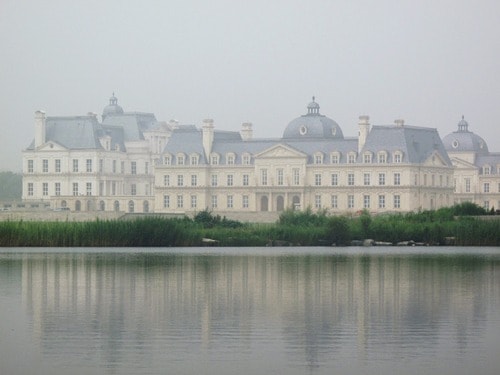 Hard to tell whether this is in France or in China… Source: the whamphyri
You can also find a full-size Versailles replica up north in Harbin. And if you're near Beijing, do go explore a Chinese wine-maker's dream Chateau, Chateau Dynasty, which was built by Dynasty Wines in Tianjin. You'll also find a Pyramid there. Copies of 17th-century Chateaux sure seem popular in China!
Why stop at a building? Let's duplicate a town!
Italian flair As Italy is well known for its high sense of fashion, Florentia Village, an outlet mall, located between Beijing and Tianjin, entirely fashioned itself after an Italian city. To inspire shoppers to buy more perhaps?
Austrian chalets which will never see winter snow
If you want even more "authentic" architecture, head to the province of Guangdong, where you'll find a copy of an entire Austrian village, down to the statues. Of course, they didn't choose any old Austrian village, they went to a UNESCO World Heritage village: Hallstatt. A village from everywhere Lastly, it's hard to resist mentioning this Jiangsu village, which just went for everything.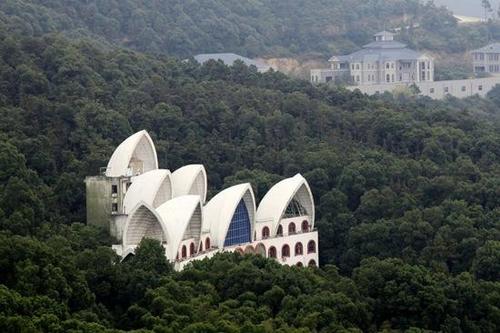 This is supposed to be the Sydney Opera House.
To see a hodgepodge of copied buildings, head to Huaxi Village. This village is known because it claims to be the richest village in China and because they choose to recreate a bunch of famous buildings from around the world: the Sydney opera house, the US Capitol, the French Arc de Triomphe, the Forbidden City… A strange choice of public buildings, sure, but in keeping with the Chinese copycat architectural trend witnessed before.
Understanding the architectural copycat movement
If you want to know more about the Best Chinese copies in China, this book explores the reasons and origins of this movement, which has become somewhat of a national pastime. Heard of or seen other striking architectural copies? Let us know!
The Nincha Team
Stay in touch with us on Facebook, Twitter, Google +, and Pinterest.
Try the best way to learn Chinese today.
Ninchanese is free to use!