AI Chinese grammar: Mastering Chinese grammar has never been this meowsome!
We know that learning Chinese can sometimes feel like a cat-astrophe, especially when it comes to mastering its grammar. But fear not. Ninchanese is here to save the day with our new, AI Chinese learning feature that will revolutionize your language learning experience!
Introducing our latest addition to the Ninchanese family: an AI Chinese grammar feature. Easily pinpoint and correct errors in your Chinese sentence structure and grammar, so you can learn Chinese smarter and faster! And guess what? This groundbreaking technology is powered by GPT, a popular AI language model developed by OpenAI, like the pretty popular now ChatGPT. This ensures you receive accurate, reliable feedback on your learning.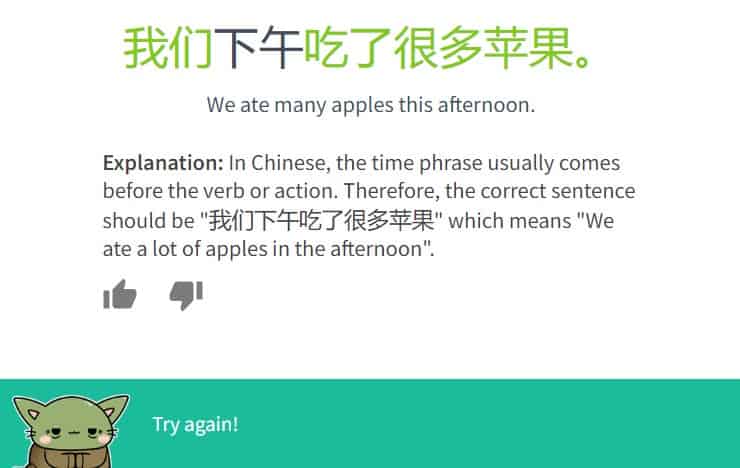 Easily spot and understand the mistakes you make when building sentences in Chinese
With our new AI-driven grammar tool, you can expect:
Instant feedback: Submit your sentence and watch our AI, powered by GPT, get to work! It will analyze it and provide you with immediate feedback on your grammar and sentence structure when it's wrong. You'll get a clear explanation of the mistake you made. No more waiting for a teacher or a native speaker to correct your work. You'll get the guidance you need right away!
Clear explanations: Not only will our AI tell you what's wrong, but it'll also give you clear explanations of why it's a mistake, and guidance on how to improve. By offering detailed insights and examples, you'll gain a better understanding of Chinese grammar rules and be able to apply them more effectively in your future sentences.
Adaptive learning: Our AI feature, backed by GPT, constantly learns and adapts to your language progress, offering personalized feedback and guidance tailored to your needs. This ensures you're always challenged and engaged, making the most of your language-learning journey.
A fun, gamified experience: Our AI-powered feature is seamlessly integrated into the Ninchanese app. You can enjoy all the fun, feline-filled adventures while learning Chinese like a pro.
As a member of the Ninchanese community, you now have the purr-fect opportunity to put our new AI tool to the test and watch your Chinese language skills soar. Remember, practice makes purrfect!
Making our approach to Chinese grammar even more meowvelous
At Ninchanese, we have always been committed to making Chinese language learning meaningful and engaging. Over the past few years, we've been working diligently on our Chinese grammar lessons. Each lesson is regularly reviewed to ensure it is interesting, accurate, and easily digestible for language learners. As a result, we're proud to have our Chinese grammar app ranked first on Android. We're thrilled by the overwhelmingly positive feedback we receive from our users and readers on our comprehensive grammar lessons.
However, we understand that learning a language isn't just about completing exercises; it's also about understanding why we make mistakes and how to improve. While our users have been able to access our grammar lessons for free during their exercises, it was often challenging for them to determine the reasons behind their errors without direct guidance.
introduce our new AI-powered feature, which complements our handcrafted grammar lessons and exercises. This advanced technology allows us to provide targeted, insightful explanations for each mistake, helping you learners grasp the nuances of the Chinese language more effectively. We believe this AI-enhanced approach will not only elevate your learning experience but also solidify our position as leaders in the field of Chinese language education.
Give this new Premium AI Chinese grammar feature a try now
Join us in celebrating the launch of our meowtastic AI Chinese grammar feature! We're offering a special 10% discount on your first subscription with the coupon code NINCHAI10. So don't wait any longer – sign up now and let the learning begin! [Offer valid on new subscriptions and upgrades. Offer expires on April 4th, 11:59 pm CET.]
Stay pawsitive and happy learning,
The Nincha Team
P.S. Don't forget to follow us on Facebook, Instagram, and Twitter for even more language learning tips, tricks, and furr-ocious puns!