只是开玩笑! Zhǐ shì kāi wán xiào! Just kidding! Knowing how to say this is very important because well, sometimes, the Chinese won't get your humor. It's not that your joke is bad, that depends on the audience, but they are not used to this kind of joke. Let's see why.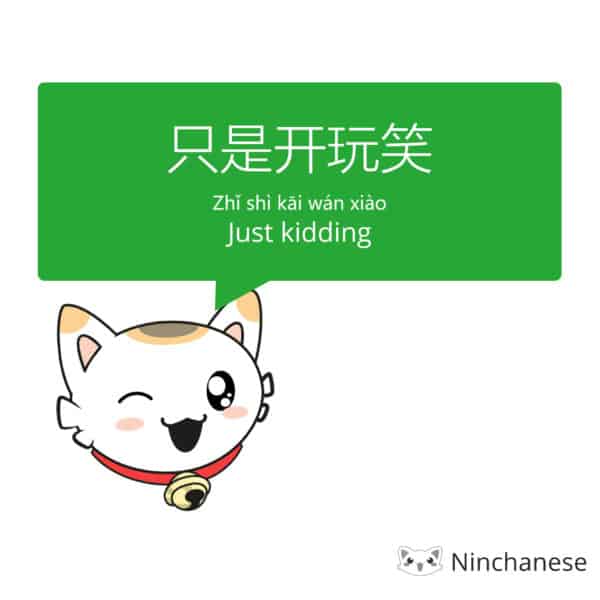 只是开玩笑
kāi wán xiào
Just kidding
This is the perfect sentence to know when you make a joke in China. Why is that?
Why you need to know how to say "Just kidding"when you make a joke in China
We, western people, often use a kind of sarcastic humor or make jokes based on exaggeration. Imagine the situation when a Chinese friend makes you strange-looking chicken claws to eat (which don't turn out to be sometimes you like) You may sarcastically say "wow, that was delicious, I could eat that at every dinner! I'll take another plate!… " but they will run to grab you another plate.
That's the kind of joke that most of the time they won't get, and will take it seriously instead. That's where a good 只是 开玩笑! can be placed.
Chinese people are usually accustomed to a different kind of humor. Chinese humor can be pretty hard to get for us because it's often based on linguistics, tones and wordplay. Also, they can look a lot more serious than Westerners when making jokes. See, they really like cold/black humor (冷笑话 – lěng xiào huà) said without any expression on their face. You could view Chinese humor as a more "serious" flavor of humor.
Another thing the Chinese are not entirely accustomed to doing is to make fun of themselves, whereas we often make self-deprecating comments, or don't mind looking silly for the sake of a good laugh. The focus on 'face' and fear of being ridiculed can exclude them from an entire genre of humor.
So let your Chinese friends know you are joking by saying 只是 开玩笑!
If you must make a bad, crappy, ridiculously mean joke, just make sure you are close enough to your audience so that they won't feel offended. Alright? And remember: 只是开玩笑 is your best friend when you make a joke in China and it falls flat!
So, remember: 只是开玩笑 is your best friend when you make a joke in China and it falls flat!
Source: Quora
The Nincha Team
Stay in touch with us on Facebook, Twitter, Instagram, and Pinterest.
Try the best way to learn Chinese today.
Ninchanese is free to use!